Contents / Getting Started
User Profile
Administrators and HR managers can set access permissions for new users upon their registration. Go to "User profile" edit mode: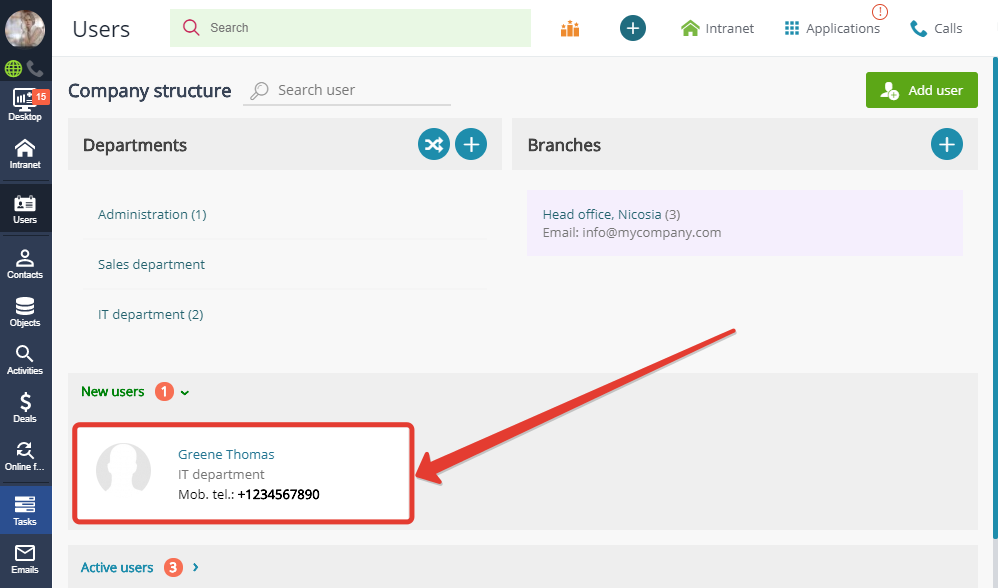 Things you need to adjust in user profile
:
user status;
user type;
access to the CRM:
Select one of the following user statuses:
new (CRM access denied) — right after self-registration by invitation link;
probation;
staff;
freelance;
off from work (CRM access denied);
retired (CRM access denied).
administrator (full access control);
HR manager (permissions to add new users and set access permissions for them);
manager (advanced access control; suitable for department managers — see CRM access settings);
user.
To grant a user access to the CRM, select the relevant group:


User profile: additional fields
You can select additional fields for any type of user profile. Go to Main menu — Settings — Intranet and user profiles — Additional fields in user profile.
You can choose between two types of additional fields:
public (visible to everyone);
private (available to HR managers only).
You can learn how to control the access to additional fields here.
User profile: setting functions
In user profile you can:
Back to Contents
---