Contents / Notifications, Reminders and Calendar
Reminders
Go to Main menu — Settings — CRM — Activities.
Select activity type and go to tab "General settings".
Tick the box shown below to display new activity notifications to supervisors each time a new activity is initiated by any user: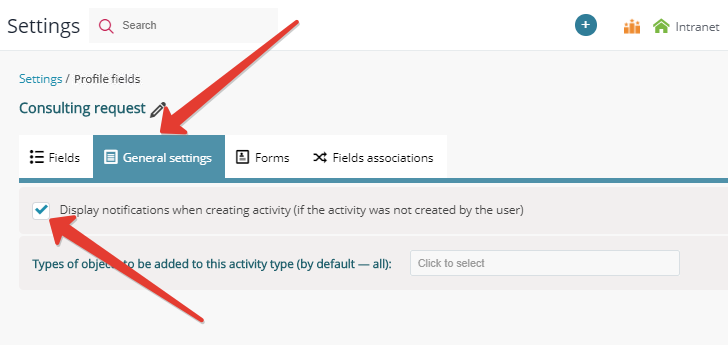 Reminder notifications for profile fields
Reminder notifications are available for any field of type "Date" or "Time". Set reminder notifications depending on the date/time.
Specify periodicity to show reminder notifications recurrently on schedule (for example, every year — for contact birthday):
Who can get notifications?
By default, reminder notifications are destined to users supervising the CRM element that contains the fields involved in these notifications. You can also set notifications visible to the group, to which the supervisor belongs:
Customized reminder notifications
You can add customized reminder notifications to the calendar and attach CRM elements to them, setting these notifications visible to certain users. Read more about notifications.
You can set reminders right in the profiles of the following CRM elements:
contacts;
activities;
deals;
objects;
tasks:
The CRM element you are creating the reminder for, will be attached to the reminder:
Back to Contents
---