Contents / Telephony
Telephony: Additional Settings and Access to Calls History
1. The following telephony settings are available in tab "Advanced":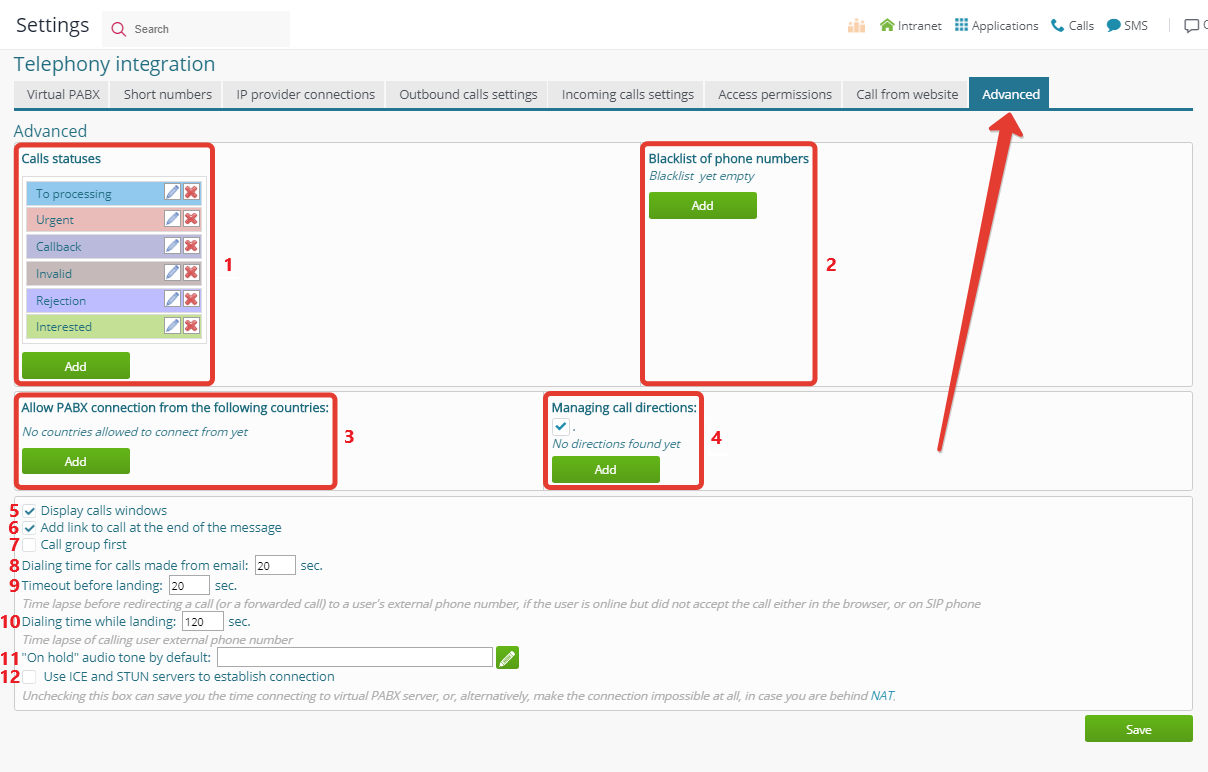 1 — call status (is displayed in calls history and call profile);
2 — blacklist: incoming calls from blacklisted phone numbers are automatically rejected;
3 — countries, from the territory of which your company employees are allowed outbound calls (by default — all countries);
4 — countries, on the territory of which it is allowed to receive calls from your company employees (by default — all countries); you can also set formats of telephone numbers allowed to receive the calls to (for instance, country and city codes);
5 — large/small window with incoming call interface;
6 — CRM emails signature with a link to call from browser;
7 — tick "Call group first" to forward incoming browser calls to another user of the same generic email account, in case the original sender of the letter with the link is offline. If this option is disabled, the call will either be ended, or forwarded to the sender mobile (if permitted in their user profile);
8 — dialing time (before switching to another script);
9 — time before calls (or forwarded calls) are redirected to an external number, if the destination user is online but did not respond in the browser/on SIP phone;
10 — dialing time when landing a call to an external number;
11 — audio playback while on hold;
12 — advanced connection settings.
---
Go to Main menu — Settings — Integrations — Telephony to create groups of users with the access permission to view the history of calls made by other users.
By default, incoming calls history is available to the users involved in incoming calls processing scripts (individually or in groups). Outbound calls are only visible to the ones who made them or received forwarded outgoing calls.
Go to the tab shown below to adjust the access permissions to calls history:

Adjust calls visibility: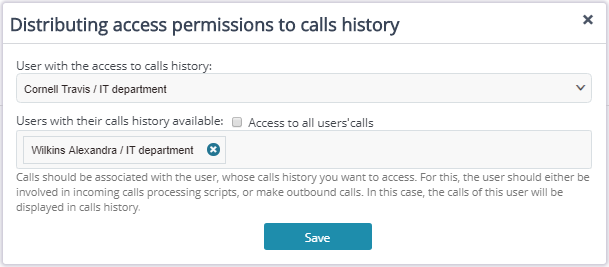 Back to contents
---